Black Yoga Wear
All black yoga clothing in an overview.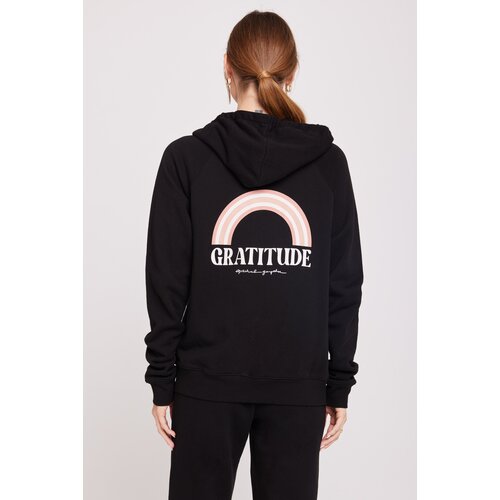 Spiritual Gangster - Yoga Lounge Kleding
Gratitude Raglan Zip Hoodie
Not just a phase. A relaxed fit, crop length hoodie. Made with 100% cotton.
Spiritual Gangster - Yoga Lounge Kleding
To Become Crop Tank
Trust the universe. Our best-selling muscle tank designed with a relaxed crew neck and shirttail hem. Made with comfortable cotton and modal fabric, this tank features a new graphic you'll love.
Urban Goddess - Duurzame Yoga- en Lounge Kleding
Yoga Broek Devi Urban Black
The Devi cotton yoga pants are made of 100% organic cotton. You stay warm, while the fabric feels cool on your skin. The fold-over waistband allows you to wear the women's yoga pants any way you want.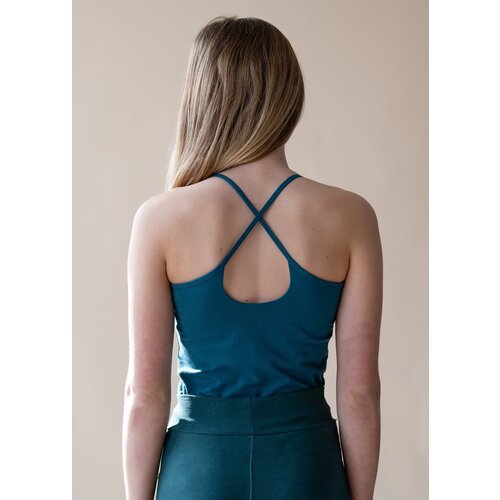 Yogamii - Duurzame Yoga Kleding
Strap Top Nidra Arctic Blue
This strap top with a built in bra is a lovely basic yoga top. It's very feminine, and shows more of your back than our more sporty Yoga Top.
Shambhala Barcelona
OM T-Shirt Black
Discover the serenity of our Om T-Shirt, made from GOTS certified organic cotton for your conscious style. With its timeless and versatile unisex design, this T-shirt offers the comfort and spirituality you seek during yoga and everyday wear.
Shambhala Barcelona
Jijivisha Top Black
"Jijivisha" means "desire to live" or "longing for life." Embrace the spirit of Jijivisha with our Tank Top, thoughtfully designed for your conscious lifestyle. Crafted from GOTS certified organic cotton, this basic tank features open armhole details.
Shambhala Barcelona
Mudra Legging Black
Introducing the Mudra Legging, an essential companion for your eco-conscious yoga practice. "Mudra" signifies a symbolic hand gesture or seal in yoga and meditation, representing deeper connections. These leggings enhance your practice with comfort.
Shambhala Barcelona
Maya Flare Pant Black
Discover the freedom of movement and versatility with our Maya Flare Pant, carefully crafted for your sustainable yoga journey. "Maya" represents the illusory nature of the material world. These flare pants offer more than style, they provide freedom.
The Spirit of Om- Yoga Kleding van Biologisch Katoen
Long Sleeve Crop Top Bamboo Black
Nature for skin and senses. This fashionable crop cut long sleeve will help you find the balance of body and mind. Whether it's a yoga session, workout or cuddling on the sofa, your skin will love this model.
Mandala - Luxe en Organische Yoga Kleding
Hoge Taille Legging Wrap Black
Beautiful simple leggings with classic wrap band. The band gives extra comfort and also some extra support. These leggings are suitable for all types of yoga, but also for dancing and relaxing. Wonderfully soft and natural material.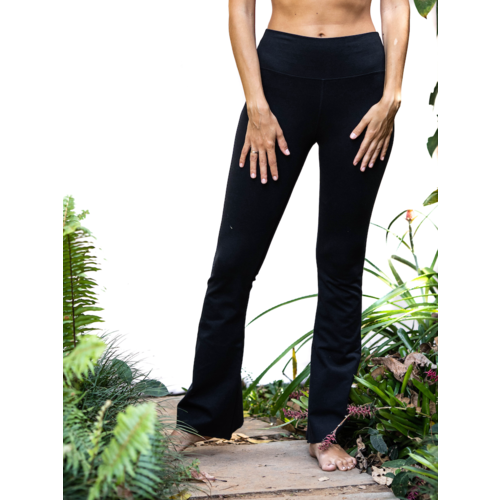 Funky Simplicity - Duurzame Yoga Kleding
Super High Waist Flare Legging Black
We offer you our leggings with a twist, our bootleg style pants come with a slight flare starting at the knee. Funky Simplicity's bootleg style leggings don't just look great, they feel wonderful as well.
Yogamii - Duurzame Yoga Kleding
Sadhana Long Legging Black
These responsibly made Sadhana Long Tights bring a little extra to the practice. They are designed specifically for yoga, and other movement forms done barefooted as they provide a bit of warmth to the feet without compromising your grip on the mat.